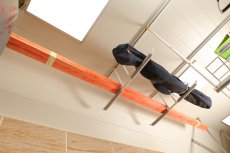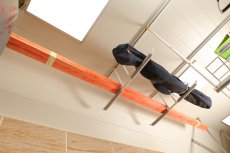 Share this
Share this
Class!
How to use the ceiling spot
Denis Butenko, a leading garage expert at GarageTech, is an example of the garage of Galina Polsky and her family.
Galina Polish Garage after arrangement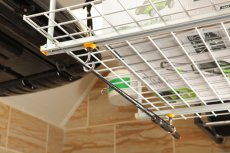 To finish the ceiling in the garage, it is recommended to use special plastic panels with high wear resistance. They are flexible but strong. The design provides for accurate joining of these PVC panels with each other in width, and a length of seven meters allows you to sew up the ceiling from the gate to the central wall without any joint.
Finish the ceiling in the area of ​​the guide gates
With such a ceiling organization, you can install LED lighting devices so that they practically do not take up space, and carefully hide the wiring under the panels. The highest ceiling allows the use of ceiling systems.
Ceiling rail storage system
To organize storage on the ceiling, duralumin rails of a special profile are installed to the ceiling frame on which the panels were mounted. The grooves in the rails allow you to move accessories on them – hooks, mezzanines, brackets, lifts – depending on the things that are stored.
Single point hoist
T-brackets designed for long items can be placed at different distances from each other depending on storage needs. In addition, they can be moved along the ceiling along the guide rails.
T-shaped ceiling bracket
Lifts can be used both for storing things, for example, a car box or boat, and for lifting heavy and bulky items under the ceiling and subsequent placement on mezzanines.
Four-point lift
The mezzanine can be additionally equipped with hooks. The ceiling system can be constantly supplemented with the necessary accessories.
Hanging mezzanine
The ceiling area is especially suitable for storing seasonal items that are rarely used, so you can install the wheel storage bracket directly on the ceiling by attaching it to the wall.
Bracket for storing wheels in the garage
Ceiling storage does not always imply mounting accessories to the ceiling or wall. You can sew up the walls of the garage with plastic panels of a special profile, which will be both a finishing material and a supporting structure for accessories. The brackets are not screwed to the walls, but are inserted into the longitudinal grooves of the panels with the counterpart. The advantage of this particular storage method is the ability to move accessories to the dimensions of any items and swap the accessories themselves.