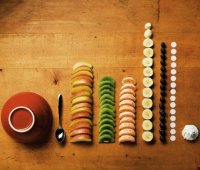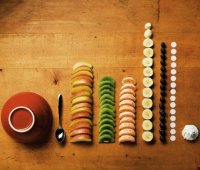 I came across an article with fascinating thoughts on the organization of life (read and comments too!). Some seemed new, something had already seen, something even apply (though, I admit, it's tight with foreign languages, because not so far I realized). In the end, based on her motives, she decided to compile her own list of such ideas (such as small repetitions). Store spotless bedding under the mattress (or even between the mattress and the sheet under the pillow), of course, keep it with all this in the covers. Winter blankets, spare curtains, towels and other textiles can also be stored under the mattress. Another option for storage is in a suitcase (while you are at home, it's still empty, and when you leave, you can throw your clothes even on the bed). By the way, before packing for a long time storage to drip a drop of beloved essential oil – protect from a musty aroma. 2. Naturally, it was a hundred million times, but the thought was excellent, as we had not thought of before, so I can't help repeating it: store bedding sets in one of the pillowcases of each set. 3. It is commonplace, but: use vacuum bags (for children's clothes from which I grew up, seasonal clothes that can be steamed, blankets, unused bedding) .4. Store underwear in the bathroom (because it's where we usually change clothes) .5.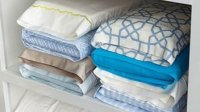 Keep sportswear and shoes in a sports bag, not in a closet with other things. 6. Store a spare soap-and-soap set in your travel bag (toothbrush, toothpaste, deodorant, shampoo in a small bottle, dry shampoo, comb, wet wipes, lover cream sampler, personal medications, lens storage liquid, etc.), spare sunglasses, spare umbrella. In general, collect samplers there, as well as one-time packages of cosmetics from hotels (always needed on trips) .7. On the computer (or you can also print it out on the inside of the closet door) have lists of things: what to take for a trip out of town, for a long trip (separately to the sea, for city walks, a winter trip), for a trip with a child to the hospital. With all this, take such lists with you – so that you don't forget anything when collecting on the way back. 8. In principle, it is better to put documents in folders (according to family members, by type of documents), and these folders are very convenient to keep not on the shelf where they always strive to be piled somewhere, but in a drawer. And it is better to keep the document box closer to the exit ( in the hallway) – in case of force majeure, fire (ttt, of course) .9. After traveling, many save …
22. Instead of a basket for dirty laundry, it is better to have a chest of drawers (or a cabinet with drawers): it is convenient to sort laundry immediately – white separately, socks separately. 23. Along the wall above the bathtub, place another bar on the spacers, hang baskets on it to store all kinds of bath accessories.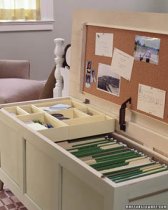 This will prevent you from drilling walls under the shelves. 24. More than once it was, but really convenient: use a magnetic tape glued to the inside of the cabinet to store invisibles and other small metal things. 25. Again, there were many, many times, but a really useful device: a phone stand, hanging directly on the charger plug, plugged into a wall outlet. Moreover, this little thing can be bought, but for us it is much simpler, more original and cheaper to make it ourselves – from plastic bottles, and if you get a little more confused, then sew, weave, put together … (in short, there is a lot of room for imagination!) 26. A cute and easy way to clean up your makeup box: 27. Trite, but: in the bathroom and in the kitchen to store a separate set of cleaning products (so as not to run back and forth). Or as an option – to store all the funds in one bucket, and when cleaning, carry everything with you at once, and not run after each separately. 28. Near the washing machine or basket (closet) for dirty laundry, keep a tray for small items from your pockets (so that you do not lie around the house later) .29. Probably everyone in the hallway has a box or tray for small things, but it's more convenient to have such a box for each family member, otherwise chaos will not be avoided soon. Or, as an option: break one box using cardboard partitions and a straw napkin into several sections .thirty. Trite, but: do not forget immediately after washing and drying your socks in pairs to roll into balls. 31. Pack T-shirts with triangles and store in a box (+ a pair of pieces in a pram, in a purse, in a car) .32. To straighten several packages into the trash bin at once (so that when you take out the trash, there would already be the next one in the bucket) – this will protect the bucket from leaking, and the removal of garbage speeds up, and extra packages aren't …