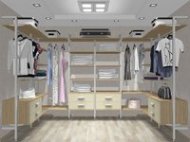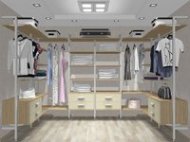 Locker room system – traditional or hi-tech — We clean the wardrobe in one week
"Modular wardrobe systems – create your dream room from separate modules, as from a designer"
Modern wardrobe systems are a set of module elements: glass or made from chipboard shelves, drawers from chipboard, mesh baskets and other accessories that are installed between special metal racks based on an aluminum profile (UNO system from Raumplus) or between chrome pipes (Joker) . Such wardrobe systems are called modular. They not only look modern and are able to fit into almost any design, but also provide great freedom for creativity. In addition, if you start a redecoration, then it will be easy to make changes to such a design.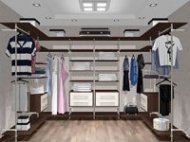 If you want the furniture to be completely made "wood-like", we want to offer you a classic version with a frame made of chipboard. It will not only please the eye, but it is also the most economical in price. In addition, we can offer you veneered furniture – an intermediate option between chipboard and solid wood. Such furniture will last for long and long years.
The wardrobe system can be left open, but then dust will inevitably accumulate on things. To avoid this, we want to bring to your attention wardrobe doors for wardrobes using a variety of colors and materials for decorating facades.
Choose a wardrobe system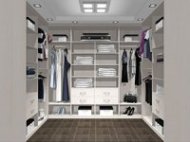 To make the right choice, we want to offer you a more detailed look at the different types of wardrobe systems from the company Akon.
Types of wardrobe systems:
German UNO system based on a construction made of rectangular aluminum profile JOKER system based on a construction made of round steel chrome pipes Classic version with chipboard frame
UNO and JOKER systems are modular, i.e. are a set of ready-made modular elements that can be assembled like a designer. This allows you to make changes to the design not only at the initial stage, but also in the process of use.
Accessories and accessories for storage
Thanks to a wide range of components, you can easily create a stylish and functional storage system that is suitable for your wardrobe, and will fit into the interior of the room as a whole.
We draw your attention to the fact that all furniture is made to order, according to your size, with all the necessary accessories and fittings, so that it not only pleases the eye, but is also functional and convenient to use.