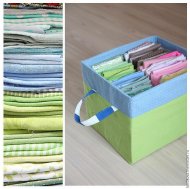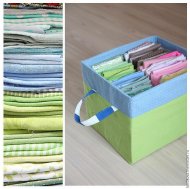 Do you have open shelves at home and a lot of things that do not always look decorative, but which need to be stored in some places?
I have! And even a lot! True, these are not fabrics, but mostly seasonal clothes, shoes and various household items of frequent use. But I decided to show the master class on the example of tissue storage, since it really is convenient to store fabrics in this way, if you do not masterfully do this and you do not need to access them once a day, but you need to store them in some places.
Lay fabric comfortably by placing the box on the side wall. In this way you stack them, as if on an ordinary shelf. The main thing is to lay them tightly so that there is no free space and the fabrics do not lose their vertical position.
Although, of course, you can buy ready-made plastic transparent boxes, but we are not looking for easy ways, but sometimes what lies in the boxes is not always nice, and I don't want to show it.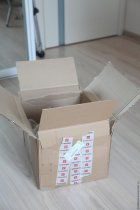 You can buy opaque plastic boxes. In this case, read what is crossed out above :)
You will need:
– a box from a corrugated cardboard or just a dense cardboard –
– fabric for a covering –
– Scotch-
– glue gun
– sewing machine.
For such boxes I take any cardboard box. You can not even very nice, like mine.
I glue the torn edges with construction tape. Although, of course, it is possible and simple, it is unprincipled. I love construction from my laziness, you can tear it with your hands, although for the workshop I, of course, cut it decently with scissors :)
I bend the upper lapels out and stick them in the same way. For stiffness.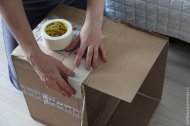 I select and iron a suitable fabric. Here, for example, I have an old sheet, which can no longer be used, it will stupidly open up, and here it will serve, it's very tasty color.
I wrap the box with fabric and in such a way I understand how much fabric I need to wrap the whole crumb. And I tear it off, taking a stock of 5-6 centimeters.
I need to be more fun, so I take another companion fabric. Although, of course, you can not do this.
I attach it and smooth the seam.
Next, I bend the blue color of the centimeters by 5-6. This bend will go inside the box.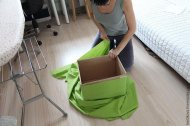 If your prying eyes can look into the box, then take a little more. Mine will be at the very top. Only I can look into it when I shoot.
Yeah, I forgot to say, we also bend the side edge and look in. He will be visible, let him be beautiful.
At this time, turn on the glue gun to bask.
And cut off the strips that will serve as handles. I have thirty cm by eight cm.
Take a look at them on the principle of oblique bei.
And then fold in half and iron again. Getting two neat bakes, though not oblique, but to us here it is not important.