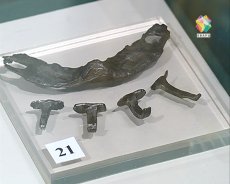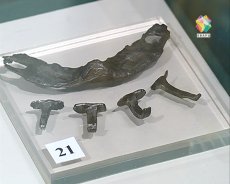 The funds of the museum-reserve will replenish more than three thousand archaeological exhibits. Finds made in the southern suburbs over the past 5 years. These are household items, household goods and culture – from the early Steel Age to the late Middle Ages. Some of the latest rarities are found in the lower reaches of Pakhra and will soon take their place in the museum.
"We found, it seems, the burial ground of the 2nd half and the end of the XI century. And here are very interesting things: a belt set, a whip tip – things that are not found in the barrows, which we know a lot on Podolsk land. These findings are not. This precarious time is pagan. This, I think, will be a weighty and best find in the last year or two, "said archaeologist, candidate of historical sciences Misha Gonyanyy.
The transferred collections are so huge that there isn't enough space to exhibit them all at once. Archaeologists dream of a separate museum. They convince that by the number and uniqueness of the finds, it will not be inferior even to the regional museum of local lore in Istra.
"Because our collection covers all chronological segments, beginning with the Mesolithic, age 10-8 thousand years ago, ending with the nineteenth century. It takes the town an exposition dedicated to the war of twelve years on Podolsk land. There are excellent materials that need to be shown, "Gonyany added.
The museum believes that all the transferred collections are of great scientific and exhibition significance.
"They can show us how the village settlements were formed. But with such collections that we have, we will arrange local exhibitions, study, make publications, and deepen our history, "said Irina Romankevich, director of the Podillia Museum-Reserve.
The transfer of collections took place in the hall, where the permanent exhibition "Holy Russia – the hope of Russia" is located. Now it will be replenished with a portrait of Patriarch Cyril. For a couple of years, the artist Svetlana Kolesnik worked on a painting called Easter.
"And it was Easter, when Christ was Risen and gave us hope for eternal life, for eternal good and love. It's just not clear: are we ready for this? That is the question. That's exactly what I wanted to portray in this portrait, "said Svetlana Kolesnik, a member of the Union of Artists of Russia.